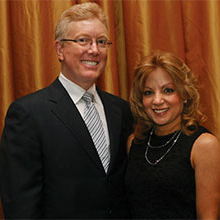 Professional Life
Paul Huston '82 credits Fairfield's small campus environment for his successful development as a student and a person. He majored in accounting and during his junior year obtained an internship at Coopers & Lybrand in Stamford, Conn. "The confidence and experience I developed at Fairfield were invaluable assets to my career," says Huston.
In 1988, after six years in public accounting, Huston decided to move to Merrill Lynch, where he transitioned from auditor to dealmaker. In 1992, he was part of a small group to exit Merrill Lynch to form Liberty Capital Partners, which he helped grow into a billion-dollar private equity firm. Among his many successes at Liberty, Huston served as chairman of the board of directors of Polaris Pool Systems, Inc. and RathGibson Manufacturing Company.
In 2006, Huston embarked on a new challenge, starting private equity firm Hudson Ferry Capital. "I enjoy working with entrepreneurial and family-owned businesses," he says. "The opportunity to invest in and partner with business founders makes each day interesting and exciting." Huston's focus at Hudson Ferry has been energy companies, which he believes will improve our country's energy self-sufficiency in the future.
Huston received the Professional Achievement Award at the 2012 Fairfield Awards Dinner. He and Linda live in Greenwich, Conn.
Most Influential Fairfield Faculty
Rev. Al Cardoni, S.J., was Paul's freshman advisor and ancient philosophy teacher. "He was a very steadying voice as I was struggling to adapt to college life as a freshman."
First Gift to Fairfield
$25 in 1984
Recent Gift to Fairfield
Paul and Linda Huston have established a charitable lead annuity trust that will provide income of just over $2 million to Fairfield over the term of the trust, to fund both current needs and the University's endowment.
Also Supports
Lyme Research Alliance
Special Olympics
Christian Children's Foundation
Greenwich Hospital
SoundWaters Environmental Education
St. Michael's Church, Greenwich, Conn.
Statement
"As a young man, my parents and Fairfield University were the most important influences in my life. My father always told us that education was the one thing in your life that could never be taken away from you. My mother was the religious influence. We were always helping her coordinate church functions. So, when I started to think about philanthropy I decided to focus on education and religion. Not only because these were my parents' values, but because I believe that what makes America such a great place to live is our country's focus on education and religious freedom.
Fairfield's influence has been present every step of my adult life, and has always played a meaningful role in the most important decisions of my life. In fact, a classmate introduced me to Linda. Marrying her and becoming Michael and David's father has Fairfield's fingerprints all over it. It was an easy conclusion to make Fairfield our number-one priority for charitable giving. My parents made a very sound investment back in 1978, and Linda and I are happy to continue investing in Fairfield's future!"